Artists-in-residence being scheduled: Aaron Blaise (FL), Sam Morrow (WA), Ray Pierotti (GA), Peig Abbott (Canada)

Director Exchange being scheduled: Joseph & Heahter Benesh (Phoenix Center for the Arts, AZ), Katherine Cole (Mesquite Fine Art Center, NV), Steve Trinidad (Urban Workshop), Ernie & Cindy Doose (The DiFiore Center, UT), Peter Jakubouski & Thom Bumblauskaus (Clay Arts Vegas, NV)

About the Program

The Artist-in-Residence program at the Idaho Art Lab is by invitation or by recommendation (from a past Artist-In-Residence or by someone we have invited). We are also inviting other art administrators that we meet while touring their facilities. We are calling this our Directors' Exchange program.

Attention Artists-In-Residence Applicants: Please submit Applications at least 3 weeks in advance of the date you wish to arrive. If you are an invited artist, you will see several areas of the Application that you will not need to fill out.

About the program: The Artist-In-Residence Program at the Idaho Art Lab offers professional artists an opportunity to pursue their artistic discipline while being surrounded by the region's inspiring landscape. Although we are a visual art organization, we welcome all artists; visual, music, dance, literary and performing artists. Selected artists stay in the Artist-In-Residence Living Quarters located on the south end of the Idaho Art Lab's art center. No stipend is provided. You are expected to provide a workshop, lecture or demonstration during your residency.

Benefits to the artist: The Idaho Art Lab provides an artist with wonderful opportunities during their residency. The Lab is the largest visual art center in Idaho. During your stay, you will have free access to the Labs including pottery wheels, lapidary equipment, scroll saws, the photography darkroom, screen printing, thermoforming table, the computer lab (with internet access) and the Lab's basic art equipment such as the 4 foot light tables, easels and the drafting table.

We are surrounded by landscapes that attract visitors from all over the world. The Teton Mountains are visible from the Idaho Art Lab. There are countless places for plein air painting with views of the Tetons within minutes. Here are other places you may wish to explore ...
Saint Anthony Sand Dunes (10 minutes)
Teton Mountains (1 hour)
Yellowstone National Park (1 hour)
Grand Targhee Ski Resort (1.5 hours)
Jackson Hole, Wyoming (1 hour, 40 min)
Craters of the Moon National Monument (2 hours)
Grand Teton National Park (2.5 hours)
... and many more beautiful destinations
Benefits to the Idaho Art Lab: The Lab is a newer not-for-profit (opened in 2011) and lacks the funds for marketing and advertising. We feel an Artist-In-Residence worshop, lecture or demonstration will draw in artists from all over the region and will provide the word-of-mouth marketing that seems to be our best method of getting the word out about all of our programs and Lab offerings. The residency program began in 2014 and we will be using residency photographs and results to apply for grants in the hopes of providing an artist stipend, providing transportation for the artists, entering Yellowstone National Park with our residency program and possibly expanding the residency into the 2-story barn which might allow for several Artists-In-Residence at once.
How long is a residency? If space is available, you may request a one week residency in the summer (Memorial Day to Labor Day) and a three week residency any other time of year.
What is an Artist-In-Residence expected to do? For every week of residency, the artist must offer a public workshop, lecture or demonstration equal to about 4 hours of their time per week. We prefer the artists to provide this to the public on a "by donation" basis where the participant pays what they can afford but the artist may choose to charge a fee which will be donated to the Idaho Art Lab. Any reimbursement for material costs must be discussed and agreed upon by the artist and the Idaho Art Lab. Also, the artist must provide digital images of work (within one year of the residency) produced as a part of the residency and the right to use those digital images in Idaho Art Lab publications, websites and presentations for education, outreach, grant writing and marketing activities. The artist's name will be prominently cited in any use.
The Idaho Art Lab is busy during operating hours and we hope the Artist-In-Residence will be inspired to create or pursue their artistic medium while residing so that the public can intertact and be inspired by the artist (this is not a requirement except for the 4 hours/week workshop, lecture or demonstration).
Public Lectures, Presentations or Demonstrations:

Artists can choose to present a public program during their residency. This lecture, presentation or demonstration must allow for audience interaction and can be tailored to an individual's medium, interest, and experience using only a few hours of one's stay. Programs can also be talks, discussions, exploratory walks or performances. Artists must provide their own supplies and equipment for these presentations. In addition, artists are encouraged to give public presentations in their own communities about their residency experience.

The Artist-In-Residence Program aspires to share with the public the scenic beauty and stories of the region through the world of art.

Workshops:

Artists can choose to offer an art education workshop during their residency. Artists can choose the age group of participants and, within reason, the number of students. We prefer workshops that allow for at least 10 - 15 participants with the exception of pottery wheel workshops where we are limited by the 7 wheels available. Any material costs are the responsibilty of the artist unless prior arrangements have been made with Idaho Art Lab management. We are often able to find material sponsors.
What are the amenities? Artists stay in the Artist-In-Residence Living Quarters located on the south end of the Idaho Art Lab's art center. This is a fully furnished bedroom with a private entrance and a back patio. Basic cooking equipment is also provided in the full-service kitchen. There is a walk-in tiled shower with a built-in seat in one of the two bathrooms. These are the Lab's customer bathrooms during the work day. The bathrooms are both ADA compliant. You will have access to the art library as well as all the artist's Labs that you are experience using after a quick orientation of the Lab equipment and our system of use of that equipment. This includes a computer, pottery wheels, scroll saws, lapidary, screen printing, vacuum forming table, photography darkroom and lost wax metal casting equipment.
Artists need to bring personal gear, food and art supplies. Because of our high altitude (~5,000 ft.) and weather extremes, artists should be prepared for great temperature fluctuations throughout their stay. Nights are cool here even in the summer and high winds are frequent.
How to Apply:
Program Application: Artists must submit an Artist-In-Residence Program Application, including materials and art samples found here.
Participation Agreement: Artists are also required to sign a current Participation Agreement which is signed by everyone who uses the Lab's equipment. This agreement can be found here. You do not need to fill out Page 2!

Insufficient, or excessive materials, are causes for application rejection, as is an artist's proposed use of a work already in progress as a residency project.
The Selection Process: Selection is based on artistic merit, the Statement of Purpose, and appropriateness to the Idaho Art Lab's mission ... "The Idaho Art Lab promotes the visual arts and provides opportunities to people of any age, ability or economic status to engage in the arts by offering art education programs, gallery exhibits & a gathering place for residents to be involved in the arts as part of their daily life."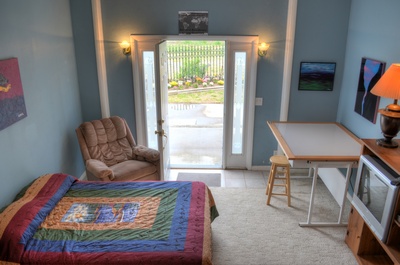 Artist-In-Residence Living Quarters