About Us:
The Idaho Art Lab is a not-for-profit education organization. Our facility is staffed by volunteers.
Our mission: "The Idaho Art Lab promotes the visual arts and provides opportunities to people of any age, ability or economic status to engage in the arts by offering art education programs, gallery exhibits & a gathering place for residents to be involved in the arts as part of their daily life."
Daniel Hidalgo
Co-Founder,
Director of Education
Since January 2010


Kara Hidalgo
Co-Founder,
Executive Director
Since January 2010

Bob Bauer
Founding
Board Member
Since July 13, 2011

Alynn Crapo
Board Member
Since Dec 17, 2014

Jocelyn Haeberle
Board Member
Since Feb 8, 2012

Richard Law
Founding
Board Member
Since July 13, 2011


Vern Russell
Founding
Board Member
Since July 13, 2011

Desiree
Chesebro-Moeller
Lead Volunteer
Since Jan. 24, 2014


DeAnn Fausett
Lead Volunteer
Since Aug. 21, 2015

Becky Jenkins
Lead Volunteer
Since Jun 4, 2015

Debra Smith
Lead Volunteer
Since Dec. 3, 2015

Bill Wilson
Founding Volunteer
Since August 2011

Rosemary Brown
Volunteer
Since May 23, 2016

Lori Corbett
Volunteer
Since Nov. 11, 2015

Heather Halversen
Volunteer
Since Oct. 5, 2016

Makayla Halversen
Volunteer
Since Oct. 5, 2016

Chris Jensen
Volunteer
Since Aug. 4, 2016

Erin Jensen
Volunteer
Since Aug. 4, 2016

Curt Kary
Volunteer
Since Aug. 2013

Jake Later
Volunteer
Since Feb. 16, 2013

Amy Nef
Volunteer Accountant
Since April 2013

Anne Skillings
Volunteer
Since Oct. 8, 2016

"Shy"ree Watkins
Volunteer
Since Oct. 26, 2016
Not shown: a couple of shy volunteers. Kathy B. (since Nov. 21, 2015), Linda C. (Nov. 16, 2016), Nancy R. (since Oct. 12, 2016). Thank you for all you do!
---
Founded August of 2010, the Idaho Art Lab is a do-it-yourself workshop and fabrication lab, fine art & craft supply store, art gallery and artist residency in rural St. Anthony. The Idaho Art Lab is nurturing the Creative Revolution with our network of makers and offers access to $30-$50k dollars worth of high quality machines, tools and software.
At this time, we are an all volunteer crew. Above are the many volunteers who are helping fulfill the Lab's mission. We hope to get funding soon that will allow for a steady salary for our teaching artists and staff members. Many volunteers help with fundraisers, manning the Lab, volunteering to teach workshops and getting the word out. The Idaho Art Lab can easily keep 3 full-time and two part-time staff members busy. Please check out our Volunteer page to see how you can help.
History: After spending the summer of 2010 touring 23 makerspaces, renovations of a building at 7 N. Bridge Street in St. Anthony, Idaho began in November of 2010 . The Marion Hamilton Gallery of Art opened on March 17, 2011. The drop-in community art makerspace opened in August of 2011 and the ceramics and pottery labs opened in February of 2012.
The Idaho Art Lab Center quickly outgrew the old building. We reopened in June 2012 at our current 5,300 sq. ft. location at 2355 S. Yellowstone Hwy. in St. Anthony. The Gallery is now the Yellowstone Teton Gallery. In April of 2013 we opened the art supply store and began our artist-in-residence program. In 2015 we began inviting art leaders from around the nation as part of our Director Exchange program. There are now Labs for fourteen art mediums and the Paint Your Own Pottery drop-in studio is going strong. Drop by for a tour anytime we are open!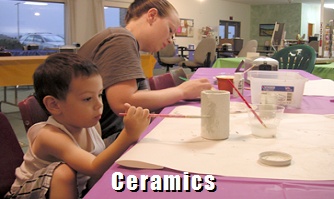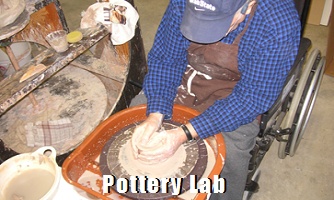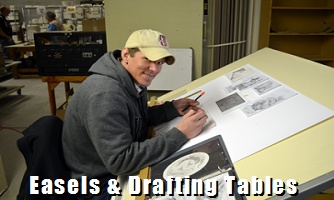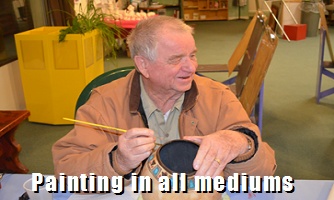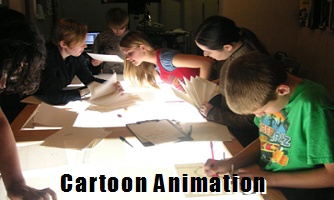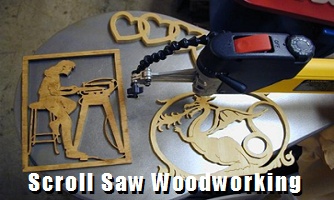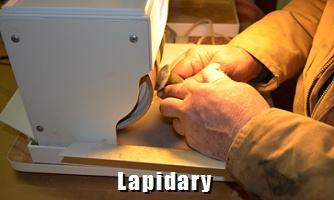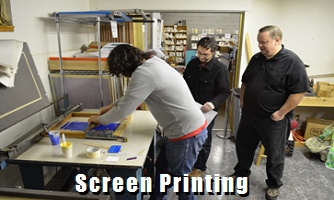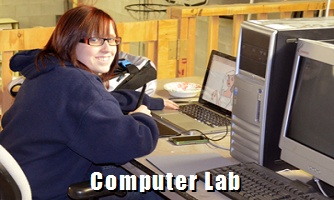 Use our art equipment for $5.00/hour (only $3.00/hour with a punch card!). You will need to take a certification class before using a Lab to learn how to use the equipment and properly care and help us maintain it.
Ceramics studio - We offer hundreds of ceramic bisque ware to paint or glaze. We plan to place the ~1,400 casting molds inventory in an online database so you have access to ALL of our inventory, not just the bisque ware we have room to display.
Pottery studio - We have kick potter's wheels and electric wheels. Low fire earthenware clay is $1.00/lb. .
Sculpture Lab - Low fire earthenware clay is $1.00/lb. Use the ergonomic electric table to raise & lower your sculpture base so you don't have to stoop or stretch.
Drawing & Painting studios - Free, open to the public. Use of our professional drafting table, 4 ft. light table, a straight-edge board for cross-hatching, easels (standing, bench or tabletop), overhead projector, paper cutters and project tables to fit child to adult.
Cartoon Animation - Large light tables are set up and we are in the process of setting up the copy stand and digitizing station.
Scroll Saw Woodshop - Our wood shop has 4 scroll saws with classes (for ages 14 & up) taught by Bill Wilson.
Lapidary - stone cutting, grinding and polishing
Faceting - the Faceter guides you in cutting & polishing facets (angle cuts) into precious gemstone or glass.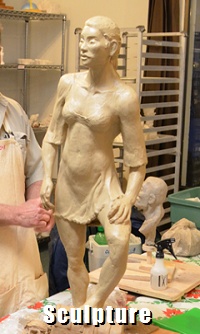 Lost Wax Metal Casting - create jewelry or small sculptures in metal.
Screen printing - We offer photo emulsion tables, a vacuum table and 90 screens in many sizes.
Block printing / Monoprinting - carve into lino blocks, use our brayers, glass surfaces and book press or try out Speedball gelatin plate printing.
Metal Sign / Vacuum-Thermo forming studio - This studio consists of a Vinyl Baker Table which bakes vinyl onto metal and creates sculptural reliefs..
Computer Arts Lab - We teach Photoshop and all the other Adobe Creative programs, 3D Rendering and other graphic arts.
Photography Darkroom - Our large format photography darkroom offers developing of prints and negatives up to 4" x 5".
Paper Arts - Cuttlebugs with many paper embossing & paper cutting templates. Great for card making and scrapbooking page design.
Vacuum forming / Vinyl Baking - form plastic, sylicone or vinyl or bake vinyl onto metal.
Volunteer Lockers - The Volunteer Lockers are available free to our top 15 volunteers each month. Each artist gets a flat file (for you to dry paintings in) and a locker to lock up your art supplies. We accept volunteers aged 13 and up.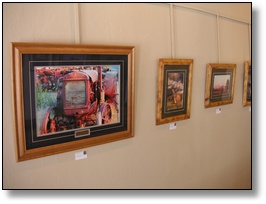 The Yellowstone Teton Gallery of Art is located in the Idaho Art Lab and showcases art by local artists. The Aspiring Artists Gallery exhibits artwork by aspiring artists of all ages. As a nonprofit, the gallery space allows us much more freedom than a for-profit art gallery. Exhibits can include Private Collections, art of the children who excel in our art education program, pieces that relate to our local events or history, etc. The ideas are endless.
The Mobile Art Lab provides art outreach throughout the region. In the fall of 2016 we purchased a small bus to travel throughout Fremont County and east Idaho. Programs are being developed now. Do you have any outreach ideas? We'd love to hear them!
Please see our Contact page if you have any questions or would like to get involved.
---

Warning: include(footer.html): failed to open stream: No such file or directory in /home/idartlab/public_html/about-us/index.php on line 188

Warning: include(footer.html): failed to open stream: No such file or directory in /home/idartlab/public_html/about-us/index.php on line 188

Warning: include(): Failed opening 'footer.html' for inclusion (include_path='.:/opt/php54/lib/php') in /home/idartlab/public_html/about-us/index.php on line 188